Our guides are hand picked to provide a fishing experience that TroutAholics is known for. They have years of experience in hunting and stalking trout to find out what they are eating and then fooling them with a fly and BANG you have a fish on your line.
We provide our anglers with a unique experience, pointing out the wildlife, like a bald eagle's nest around a bend in the river, maybe a fawn just days old……yes – fly fishing is the most important part of the trip but sometimes it is nice to just reel in your line and sit back to enjoy your surroundings.
---
Hi! I'm Joel Thompson, self professed TroutAholic!!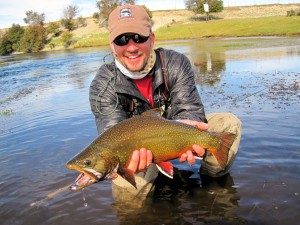 and the Master Guide at Montana TroutAholic Outfitters. After fishing all my life, fly fishing for 15 years, I was given an opportunity to start guiding full time in 2006, so quit my "day job", grabbed the opportunity and never looked back!.
I love the outdoors with all the wildlife, vistas, ever changing rivers and untamed territory. My days are filled with the thrill of hunting, stalking, figuring out what the fish are eating that day and WHAM, catching the fish.
Our motto at Montana TroutAholic Outfitters is "FEEDING your Addiction" and we encourage everyone to join us.
Let us know if you have any questions or need special services….we would be glad to assist!
---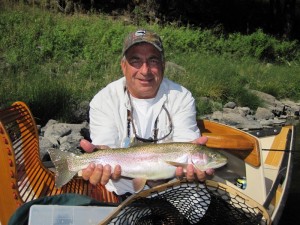 Learn new fly fishing techniques with Tony Marino!
Tony Marino began his fly fishing career on the famous Adirondack and Catskill rivers of New York State in the 1960's. The classic eastern waters of the Delaware, Beaverkill, Ausable and Esopus Rivers, with their prolific May fly hatches, were a wonderful classroom in which to learn thiscraft.
Traveling West in the early 1970's, Tony began fishing the western rivers of Montana, Wyoming, Colorado, Idaho, and Canada. He began guiding fly fishermen and women in Montana and Idaho in 1978 and moved to Missoula in 1983 and continued to guide fly fishing trips.
Recently, he fished in Argentina and Chile, and Canada. He enjoys teaching fly fishing to beginners as well as accomplished anglers.
Tony retired from 35 years of teach special education and school administration in 2007 and is a full time guide for Montana TroutAholics.
Come fly fishing with Tony and Montana TroutAholics and Feed Your Addiction!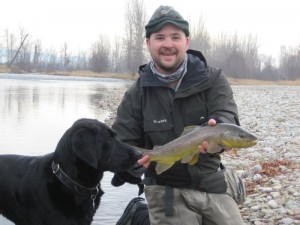 Troutaholic Guide, Mitch King
Fishing is my passion.  I moved to Montana from north Texas in 2003 for school and adventure.  Montana has become my home and fly fishing has become my life.  I can't imagine doing anything else.  I started fishing when I was young as most of us do, but once I held a fly rod for the first time it was on.   So for the last 9 years I have been rowing and wading the Blackfoot, the Clark and the Bitterroot  rivers in pursuit of that elusive trout with friends both old and new.
Montana Troutaholic Guide, Brock Long
Brock Long – Growing up in the mid-west, Brock spent a lot of time chasing Small and Large Mouth Bass in his youth.  He picked up a fly rod in college and ran down to the White River in Arkansas every chance he had. He was hooked and decided that guiding, or sharing his passion, out west was what he was meant to do.
Early on Brock determined that Craig, MT could be the best little fishing town in the lower 48.  Brock has been fly fishing his way to the trout bum capitol of the World for 10 plus years and now finds it hard to leave. He splits time between shop work at CrossCurrents Fly Shop and Guiding on the Missouri River.  If he is not working you will find him chasing heads on the MO.  Brock believes that the trout and dry fly fishing on the Missouri River is pretty significant.  He enjoys sharing this incredible fishery with as many people as possible. Check out his blog at http://www.montanadrifter.com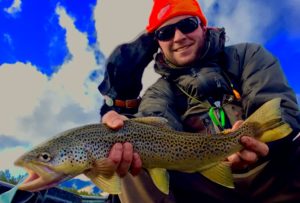 Montana Troutaholic Guide Danny Beck first wet a line trolling night crawlers in Northern Michigan with his dad at 5 years old. He first picked up a fly rod in 1999. Following his move out west in 2001, Danny has made Missoula his home for the last 16 years. When not working as a Firefighter/Paramedic for the City of Missoula, he is somewhere in the hills of Western Montana with his dogs. Being a TroutAholic, stalking predatory Brown Trout using large streamers is his addiction of choice. Danny also enjoys fishing for Salmon and Steelhead in Idaho. He has also spent time chasing Tarpon and Snook on the flats of South Florida. His other passions are Upland bird hunting with his two English Labs, photography and the Detroit Red Wings. Whether your dream trip includes working on your casting, reading water, learning about entomology, fishing for numbers or going for broke searching for a huge trophy Brown trout, one thing is for certain, Danny Beck has the knowledge, experience and personality to ensure a safe and memorable trip of a lifetime.